Internet or World Wide Web seems to be changed drastically in last decade and continues with it. Millions of people use internet daily. Internet has become a major part in everybody's life to perform important stuff. Internet has connected many nations through connectivity. It consists of a distributed and wide spread network all over world.  Many new technologies are been updated regularly and now Cloud platform has become major need of today in order to get reliable, scalable and uptime in order to run Business website or Ecommerce  website. Due to Cloud Hosting platform, Datacenter are gaining more importance and need to be protected from various attacks like DDOS. It becomes really difficult if the attack is major and get over it. Let see details of Distributed Denial of Service (DDOS) attack in detail.
Distributed Denial of Service (DDOS) is an attack used to make a particular business website or money making site unavailable. In order to make such attempt of attack, culprit or attacker builds a network of distributed computers and performs attacks through vulnerable websites which are not been updated or from vulnerable host. They find loopholes from where it would be easy to perform attack. If attacker uses single source to perform attack then it is called Denial of Service (DOS). The major purpose of DDOS attack is to make Website or resources like network bandwidth or Computer resources unavailable. In DDOS attack, computer is hammered with millions of queries or request which it can't be able to handle and thus makes system block or unavailable.
DDOS attacker first finds vulnerable websites, computer, host etc. Once this is done a team of master and slave is prepared to perform further orders of attacker. Attacker is in touch with master and master coordinates with slave. When attacker gives attack command to master it's been forwarded to slaves and they begin to send large volume of unknown packets to target websites or machine. Due to this particular website or machines get flooded with unnecessary traffic and thus visitors or customers can see that website is not available for their service. Below fig. can help us to understand more deeply.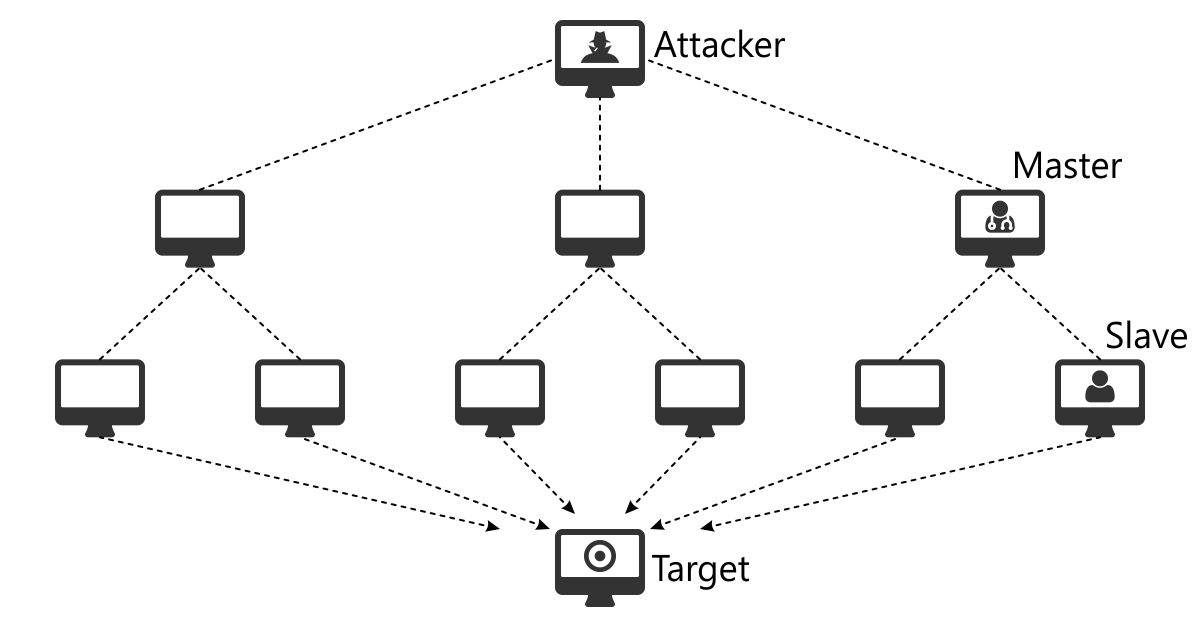 It's important to protect Distributed Denial of Service. Attacks are mainly targeted on Government websites or services, Financial Services, Ecommerce websites, Cloud based data, Media, Gaming servers etc. Attacker is willing to destroy Company's reputation, goals or mission, hamper business etc. Due to this, websites or servers must be monitored; secured and all possible vulnerabilities should be removed so that no attacker can interfere on company's goals and services. DDOS attack can be avoided by using load balancing servers, higher number of bandwidth, setting up network parameters etc.
Hope this article can help everybody understand about DDOS attack and benefit to save from such kind of obstacles.